11 November 2005
Getting a room now in Cardiff might be a bit tough for Saturday night, but Sunday looks wide open. Paul will be appearing Sunday during the main events of talks, autograph and photo sessions and a party in the evening. Saturday morning he will also be making a charity signing at The Comic Guru and in the afternoon at Forbidden Planet, both in Cardiff. In the evening Paul will be joining the other guests at an "Eve" party. A splended time is guaranteed for all! (and inconstant writer is aggrieved she will not be attending as hoped.)
Ascention Cardiff is taking place at The Village Hotel, Coryton, Cardiff, Wales on Sunday 20 November 2005.

Tickets cost £45.00 each (discount available for students). Any attendees under the age of 15 must be accompanied by an adult.
21 May 2005
Paul's latest film, "Gypo", had its premiere earlier this week at the Cannes Film Festival. It was immediately one of the hottest films there and has been picked up by U.S. and U.K. distributors. Mysan.de reported:
Acclaimed new independent British feature film, Gypo, has been snapped up by a leading US film company for distribution across America at this year's Cannes Film Festival, becoming the first British film at Cannes to secure a major US distribution deal.

Against the backdrop of the internationally contentious subject of asylum seekers, the film is written and directed by independent filmmaker Jan Dunn and produced by Elaine Wickham of Medb Films, the film is set entirely on location around the Kent coastline.

Swipe Films also sold the film for UK distribution to the leading UK distributor, Redbus Film Distribution, the company behind such hits as Bend It Like Beckham and the forthcoming feature, It's All Gone Pete Tong. The film was backed by Screen South, the regional film agency for the south coast of England.

Gypo received its world premiere in the Cannes market this week and instantly became one of hottest films at Cannes. It has been bought by the leading US distributor Wolfe LLC. The deal was negotiated by Frank Mannion of London-based Swipe Films.

Gypo was shot in 13 days and it the first ever British film to adhere to the dogme95 rules of chastity created by renowned Danish filmmaker Lars von Trier. The film is shot in a documentary style and tells the story of the disintegration of an ordinary family when their teenage daughter befriends a refugee girl with a stunning twist in the tale.

Presented in three revelatory narratives, each told from a particular character's point of view, Gypo exposes the tabloid sensationalism surrounding refugees and the fears that perpetuate the myths.


"Gypo" is the first Birtish film to adhere to the rules of Dogme 95. The Dogme95 rules were conceived in the beginning of 1995 by Danish filmmakers Lars von Trier and Thomas Vinterberg. For the complete manifesto, please see the Dogme 95 website and click on "Manifesto" on the bottom menu. The Vow of Chastity includes rules regarding shooting on location, using only ambient sound, and shooting with a hand-held camera.
The Gypo website is available at http://www.gypothefilm.co.uk/.
Paul in "The Gigli Concert"
"The Gigli Concert" played at the Finborough, an intimate pub theatre in London. Tom Murphy of the British Theatre Guide, wrote in part:
Paul McGann plays a dishevelled Dublin dynamatologist called Jimmy King. In English, his vocation would translate as quack psychiatrist, if he ever had a patient. His spacious consulting room, perfectly realised by designer Vicki Fifield, doubles as his home, thanks to the creature comforts of a divan and a gallon of vodka.
As he is preparing to give it up, he receives a visit from Niall Buggy playing a millionaire property developer without a name. This despairing man explains that he wants to sing like the famous operatic tenor, Beniamino Gigli. In fact, he needs to give a shape and meaning to his life.

Despite his problems, it doesn't take long for the relationship to become mutually dependent, as the healer seems to have as many problems as his patient. The forlorn love of one woman and the temporary nature of his affair with another, Mona leave him marginally the better bet for suicide.

Over a sozzled weekend of opera and personal discovery, the pair manage to achieve a measure of closure and release by means that must be regarded as unorthodox, even within the quack community.
The best news about "Gigli" is there is a chance of it coming to America. There are no guarantees yet, but we are keeping our ears to the ground on this one. Many P-Mobbers made it to the play and reported rave reviews, not only on the performances (solid and compelling), but on meeting and greeting ourPaul in the pub afterwards. As always he was his own gracious and generous person.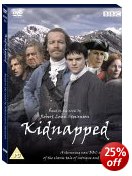 "Kidnapped" available May 23rd for home viewing
Kidnapped aired and becomes available in a day or so to anyone able to play PAL tapes or Region 2 DVDs from (among other places) Amazon.co.uk.
31 January 2005
Heather Amos of Ascension Events has told us about a new convention occurring in Cardiff, Wales next November.

It's called Ascension|Cardiff, and will have ourPaul as a major guest, as well as Von Flores and Robert Leeshock from "Earth: Final Conflict". It's a one-day con, November 20th, 2005. For more information, go to:

http://www.scifiheaven.net/main/ascensionevents/


The cost is £45 (there's discount for students), and it will be held at The Village Hotel.

The schedule is to include guest talks, photo/authograph sessions, and a party in the evening. Sounds like fun!
Just recently, Paul participated in the Slapstick Silent Comedy Festival organized by the local silent film buffs group Bristol Silents. (Thanks to Estelle for this reminder and update.) At Chicago TARDIS, Paul said he and some members of the Darts (reborn as the Matinee Idles) would provide acapella accompaniment to a new compilation of Keaton films entitled Keaton Racing.

Highlights of the event can be viewed via:
www.slapstick.org.uk/highlights.htm

If you click on Slapstick Festival documentary, you can see that Paul most definitely figures into it. There's even a teeny scene from Yakety Yak.

The "Colston Hall" link leads to still photos that include Paul.

Our Lynn (who was able to attend) tells us Paul said the festival - or at least part of it will be repeated in London in laster this year. According to The Slapstick website's press release, it looks like it would be at the Barbicon in April.
1 November 2004
Finally, finally, thanks to Rach for reporting on an article in 31 October's Sunday Express Magazine, and a heads-up from Clare P., we are thrilled to report that "Lie with Me" (formerly "Tell Me Lies") will be airing on ITV1 on 15th & 16th of November at 9:00 pm GMT. For a synopsis see below.
Paul's comments on the part he plays (from the Sunday Express Magazine interview, with a big smack on the lips to Rach for transcribing the whole thing):
Paul McGann has nothing but praise for his latest character, a swanky seducer who cheats repeatedly on his wife and enjoys wild sex sessions with younger women. "I love him." says Paul, who plays art dealer Gerry Henson in ITV1's new two-part thriller

Lie with Me.

"He's forever putting himself about,yet his long-suffering wife knows all about his affairs. It's great playing morally dubious men,but you've got to have a dark side to do it.If you're nice and fluffy you won't go far in this business.And anyway who wants to play the good guy all the time?"
We can't wait!
Akka (our newest member auf Deutschland) has shared news from the Librarians (specifically Maddy) about the site of a new film "Poppies": http://www.poppiesfilm.com/index.htm. In "Poppies", Paul plays a playwright obsessed with his new play concerning the Battle of the Soame (at which his grandfather and two great-uncles died):
Obsession and loss:
'Poppies' is a film about a man's struggle to come to terms with them.

Tony Hudson (played by Paul McGann) is a man haunted by the ghosts of the past, desperately trying to find somewhere to stage his play "Talking to Grandad". However, as his personal obessession grows, he begins to lose his own internal battles, and struggles to maintain the relationship with his partner, Cathy (played by Susan Vidler).
Long time fans of Paul McGann, may recall the name "Susan Vidler". She was the delightful actress who played opposite him in "Sabina" (taking the titular role). We are certainly looking forward to seeing them act together again.
Rach wrote a nice note to the writer/director Barry Bliss, and he gave her this further information:
"We are plann[ing] to finish the film by the end of November and hope to publicly premier the film early next year but at present have no definite dates as we were delayed in the final stages of production. We will update the website when we have anything definite to report. "
This is a marvelous website, full of information and stills (always popular to Paul's fans). There is also a rather haunting trailer which you can download. Truly a treasure-trove!
15 September, 2004
...featuring ourPaul as Colonel McNabb. The BBC announced the project, to be made in conjunction with South Pacific Productions (famous for "Whale Rider"). The filming will be done in New Zealand. The show is slated to be shown on BBC One in 2005. Paul's agent has informed us that Paul will be filming "Kidnapped!" from the 27th of September until the 16th of October. Here is a snippet from the CBBC article on the filming:
Robert Louis Stevenson's Kidnapped heads new CBBC drama commissions for 2005



CBBC brings an all-star cast to the screen next year with an adaptation of

Kidnapped

, Robert Louis Stevenson's classic tale.



Iain Glenn

stars as Alan Breck and

James Pearson

as Davie Balfour in Stevenson's tale of treachery, romance and rebellion, along with

Paul McGann

as Colonel McNabb,

Adrian Dunbar

as Uncle Ebenezer,

Gregor Fisher

as James of the Glens and

Kirsten Smith

as Catriona.

Kidnapped chronicles the adventures of Breck and Balfour as they escape murder and shipwreck on a quest for justice, all set against the fierce social and political backdrop of 1760s Scotland.

The BBC is working with South Pacific Productions (makers of the Oscar nominated film Whale Rider) on location in New Zealand.
For more on the character Paul will play, I turn to the fount of all information on literature (and many other subjects), Mary Ellen Sandahl:
Paul's part is one of the bad guys ... he is the pursuer of the romantic Highland outlaw Alan Breck, who's on the run with the young protagonist David Balfour. Paul will get to be arrogant and fiercely determined...
3 September, 2004
Win a Free Pass to "Dr. Who and the Daleks II"
I just found out about this, so I'll apologize for the lateness of putting it on the site. There is a very easy contest to win tickets to the above convention which features a certain Paul McGann. Enter from the BBC Website: http://www.bbc.co.uk/cult/doctorwho/quiz/prizequiz.shtml. All you have to do is pick the non-scouse from the list of names. Here's a hint: Tom Baker is also from Liverpool. I think you know the other scouser.
Sadly, the contest is open only to UK residents. Oh! And the prize includes only the passes, no transport or hotel is included.
According to many of our members, Paul has been heard on both Classic FM and some other (non specified) radio station doing adverts. Specifically for the RAF, the Government's "Terror Information Leaflet", and some others. Well, we always said we could listen to him anything, including the phone book. Folks interested in tuning into Classic FM can do so over the net (if their server isn't overloaded) at: www. classicfm.com. The link for listening live is at the top near the right side.
23 August, 2004
Paul To Return to Liverpool -- for yet another con appearance
Just received news from Paul Griggs (Guest Liason) that Indelible Promotions will be hosting a con entitled "Dr. Who and the Daleks II" at which Paul is slated to appear. Also on the programme are Colin Baker, India Fisher, Nicholas "call-me-Nick" Courtney, and a host of others. The dates are October 2nd and 3rd, and the venue is the Gladstone Hotel in Liverpool City Centre. For more information, visit the Indelible Promotions website.
"Sad Cypress" to Air in the U.S.
Jessica has written to let us know that "Sad Cypress" (a treat for Poirot fans and McGannaholics alike) is to air on A&E September 19th at 10:00pm EST. Get those VCRs ready!
At this time, "Our Mutual Friend" is being aired Saturdays at 4:00pm in Australia (on UKTV). The episodes are being aired one hour at a time. Apparently, last week's episode had Eugene persuading Lizzy to take lessons. This is one of ourPaul's finest performances and not to be missed. Annie Oz leads us to understand that although the episodes are an odd length (1 hour as opposed to 1.5 hrs) there appears to be no cuts in the story.
26 April, 2004
Paul is making good on his plans to visit more conventions. The folks at Chicago TARDIS 2004 have confirmed that Paul McGann will be appearing at the con. The dates are 26-28 November, 2004, and the venue is the Radisson Chicago O'Hare. See the Chicago TARDIS website for the full details. We suggest you book your room and get your registration in early.
Also appearing will be the adorable and inimitable India Fisher, Jason Haigh-Ellery (a new heart-throb for some of those who met him in L.A.), and Gary Russell. Even if you're not a Doctor Who fan, we recommend you come. A great time is always had when the PMEB gathers -- and members are already planning on get-togethers at this con.
3 March, 2004
Emily has given us the heads-up from Outpost Gallifrey: Paul McGann is to appear at Dimensions 2004 at the Swallow Hotel, Stockton-on-Tees from 13-14 November, 2004. The event is sponsored by Tenth Planet. Among his fellow guests are Peter Davison, Mark Strickson, Wendy Padbury, Richard Franklin, and Waris Hussein. From the Dimensions home page on what to expect:
Well to start with as with previous events from 10th Planet and Dimensions you can expect a fully stocked merchandise room from the top retailers in the country!

There will also be guest panels, autograph sessions, coffee club, photo studio and a range of original and replica props from Doctor Who as well as entertainment on Saturday evening.

We are aiming to put on a fun and enjoyable event for the attendees, guests and everyone who attends!
As the BEEB puts it, they finally got their snaps back from the chemist, and have put their slide show up. Personally, I think ours are better, but this one is nice for its pictures of the attendees.
22 February 2004
Folks are buzzing about Paul McGann's "First North American Convention"
Rach informs us that "Sad Cypress", Paul's foray into the world of Hercule Poirot, will be released on Region 2 PAL DVD in April. We can only hope that PBS's "Mystery!" or A&E will pick up the story for broadcast in the U.S. in the near future. Amazon UK, Blackstar, and Choices Direct all say they'll have it for release on April 19.
20 February 2004
Thanks to sleuths extraordinaire, Denise (who now carries the title of "Ambassador of the PMEB") and not far behind her, Rach, we have the following information from Teletext:
Rape horror for ITV1
By Jonathan Donald

A harrowing drama about rape, starring This Life star Andrew Lincoln, is being made for ITV1. Based on the best-selling novel of the same name by Tony Strong, Tell Me Lies is about a young woman, Ros (Eve Best) who wakes up after being drugged to find her flatmate dead and herself the victim of a vicious sexual assault. Lincoln plays DI Bill Tomlinson who heads the investigation and ends up falling for Ros as the case falls apart. Despite finding a prime suspect, the CPS refuses to prosecute. So Bill and Ros lie in court to secure a conviction, but with drastic repercussions. Co-stars include ex-Dr Who Paul McGann and top Scottish actor Bill Paterson. Granada's controller of drama and comedy, Andy Harries, said: "It's a real page turner as a book and with its fabulous cast I know it will turn into a really tense and exciting piece of TV. "It's a really chilling contemporary story which echoes many people's real experiences of living in London today." Filming of the two-parter begins this month with transmission later this year. [emphasis mine]
17 February 2004
Post-Gallifrey -- Paul McGann's First North American Convention a Stunning Success!

Sylvester McCoy, Paul McGann, India Fisher
(photo by SLG)

A grand time was had by all -- and not only by the many members of the PMEB and the Horatians who came by. Paul, who seemed a bit nervous at his first panel, just a wee bit, was relaxed and apparently thoroughly enjoying himself by his last panel on Sunday (see photos below, special thanks to Emily F.). He was his usual gracious, delightful self, thrilling everyone who met him.

The PMEB and the Horatians wish to extend a special thank you to Mr. McGann for giving us the gift of his presence at a small and (nearly) intimate cocktail half-hour. It was a thrill not only to have Paul at our table, but the delightful, talented and gifted writers Kate Orman and Jonathan Blum. Although we began with 15 people, we ended up with 20. A lovely gathering with this charming man.

Another major highlight came in response to a request for a Lt. Bush-ian yell of "Fire!" After collecting himself and drawing a great breath (while the other members of the panel, including Susannah Harker, headed for cover) he bellowed the order. The result was stunning. For a (slightly blurry) video of the event, see Emily's fabulous footage. Emily (who came to us from the Horatians) has also added many wonderful photos from Galley One to the McGann Library at EZboards.

Paul had such a good time himself, that he is not ruling out Chicago TARDIS or a SciFi Cruise at this point. However....no putting the cart before the horse. This is all speculation at this time.


Just a wee bit nervous that first panel.
(photo by Emily F.)


Totally relaxed by the final panel.
(photo by Emily F.)
Returning to the U.K. for Filming
Paul had to leave Gallifrey fairly early (right after his Sunday autograph session) due to filming obligations. When asked what the show was about, he said it was a cop drama where he plays a man wrongly accused of rape. More on this when we hear more about it.