Mark McGann: Biography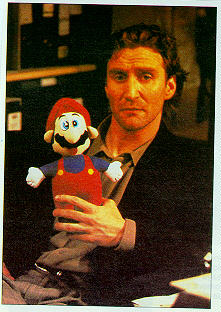 Mark, born in 1961, is the third brother in the McGann family and the only one with green eyes. He's an accomplished musician, playing piano, drums, guitar and harmonica. In 1998 he led brothers Joe and Stephen in a McGann brothers album. He was recently interviewed by Adrian Devoy for the Mail on Sunday.
Mark gained his initial fame portraying John Lennon on stage and screen. His uncanny resemblance to Lennon, coupled with a knack for mimicry in speaking, singing and movement, very nearly caused him to be typecast as the late Beatle.
However, he has since more than proved himself in television, film, and opera. Americans were privileged to see Mark on "Mystery!" in the Inspector Morse episode "Death Is Now My Neighbour."
Mark's female fans got a bit of jolt this year, when he got married. (This leaves Joe the only unattached McGann -- ladies take note!)
Quote: "...I love Liverpool, and I love it most because it's always optimistic, always fighting back, always having a sort of arrogance."